Sinus headaches may cause pressure around your eyes, cheeks and forehead. Sinus headaches are associated with a deep and constant pain in the face and forehead, often accompanied by other sinus symptoms, such as nasal discharge, fever, and facial swelling. It will often feel like you have an infection in the sinuses. When sinuses become inflamed, it will cause swelling and the channels that normally drain fluid and pressure will become blocked. This increased pressure in the sinuses causes a pain similar to that of a headache.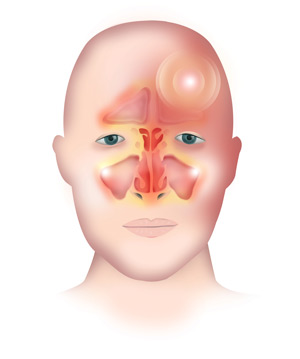 If you have frequent sinus headaches, it is important to schedule an appointment with your ENT to help determine if those headaches are due to a larger issue (ex: serious sinus infection) or if the headaches are actually being caused by migraines or tension headaches. Although many chronic headaches are labeled sinus headaches, some of these chronic headaches are in fact migraine or tension headaches.
If your headache is due to a sinus infection, you will sometimes have a fever and almost always will have green or yellow nasal discharge. Treatment of sinus headaches due to a sinus infection may include antibiotics for the infection, antihistamines (Benadryl) or decongestants (Sudafed), nasal steroids or oral corticosteroids and pain relievers (such as Advil) to help treat the symptoms.
It is also very important to make sure your body is properly hydrated to help your natural immune system.
With someone who frequently experiences sinus headaches and sinus infections, your ENT doctor may order CT and MRI scans. In extreme cases, your ENT may recommend sinus surgery.
North Dallas Ear Nose & Throat
Dr. Morris Gottleib is a specialist in Ear, Nose and Throat problems. He has practiced in the North Dallas area of Richardson, Plano and Garland for more than 20 years. Patients also come from the surburbs of McKinney, Allen and Frisco, Texas.
North Dallas Ear, Nose and Throat specializes in the treatment of allergy problems, deviated septum, sinus headache and nasal polyps. Advanced procedures include balloon sinuplasty, endoscopic sinus surgery, allergy testing and chronic sinusitis.
North Dallas Ear, Nose and Throat provides care of both adult and pediatric patients. Dr. Gottleib trained at Duke Children's Hospital, one of the top 5 children's hospitals in the country, for Pediatric Otolaryngology. For children, Dr. Gottleib performs many different procedures for ear, nose and throat problems in children including hearing evaluations, removal of tonsils, adenoids and placement of ear tubes. North Dallas Ear Nose and Throat also treats hearing loss and provides hearing tests along with the most advanced hearing aid technology.
Disclaimer:
The pictures displayed in this website are images of physicians, patients and employees who have consented to have their pictures in this website.
ENT SERVICES
We treat a variety of conditions including allergy problems, conditions of the nose, throat and sinuses, hearing problems, as well as head and neck issues. We are equipped to see all populations from pediatric to geriatric patients.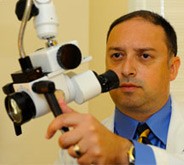 CALL NOW
BOARD CERTIFIED
Dr. Morris Gottlieb is board certified in Otolaryngology – Head and Neck Surgery and is a Fellow of the American College of Surgeons, a distinction that fewer than 1% of all surgeons hold.

READ BIO
CONTACT US
We are conveniently located in Richardson, Texas on the President George Bush Turnpike, just east of US75.
CONTACT US