Our office accepts a number of popular insurance plans to help our patients receive the care that they need. If you have questions about your insurance and if it is accepted by our office, please feel free to call us at 972-480-8877 and we will help guide you.
We also accept a variety of payment options including credit cards, debit cards, check and payment plans. We have partnered with PatientFi to offer flexible patient financing with zero credit impact for our patients. Your care is our utmost concern, and we offer these financing options to ensure that patients have the freedom to choose their health first. Please click on the banner below for more information or to apply. If you have any questions, please feel free to call the office.

PatientFi puts the patient's best interest at the center of everything. Designed by the nation's leading plastic surgeons, PatientFi allows you to pay for your treatment through flexible monthly payment plans, customized to fit your budget. Checking your rate won't hurt your credit score. Find out your monthly payment today!
Disclaimer:
The pictures displayed in this website are images of physicians, patients and employees who have consented to have their pictures in this website.
ENT SERVICES
We treat a variety of conditions including allergy problems, conditions of the nose, throat and sinuses, hearing problems, as well as head and neck issues. We are equipped to see all populations from pediatric to geriatric patients.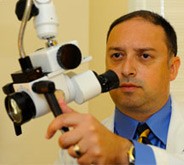 CALL NOW
BOARD CERTIFIED
Dr. Morris Gottlieb is board certified in Otolaryngology – Head and Neck Surgery and is a Fellow of the American College of Surgeons, a distinction that fewer than 1% of all surgeons hold.

READ BIO
CONTACT US
We are conveniently located in Richardson, Texas on the President George Bush Turnpike, just east of US75.
CONTACT US